Fractal co-founder Justin Kan tells Decrypt that many game developers "want to be on Polygon."

Fractal, a Web3 gaming platform that began life on Solana in late 2021, is coming to Polygon. Today, the company—which was co-founded by Justin Kan, co-founder of popular streaming video game platform Twitch—announced that it has launched support for NFT-powered games on the Ethereum sidechain network.

With the move, Fractal has brought its same Web3 gaming suite and feature set to Polygon, including a marketplace for in-game NFTs, a launchpad for minting new projects, and support in the form of running esports tournaments. Developers can also build in-game marketplaces using the Fractal SDK, so that players don't have to leave to browse and transact NFTs.

"Our goal is to support game developers, and part of that is being wherever the game developers want to be," Kan told Decrypt. "And a lot of them want to be on Polygon, to be honest."

Polygon has gained considerable attention in the Web3 space in recent months as major brands like Starbucks, Reddit, Nike, and Meta have tapped the network for their platforms.

Reddit, for example, has minted nearly 8.5 million Collectible Avatars on Polygon since last summer. Starbucks has built a loyalty program designed around collectible NFTs, while Nike is launching metaverse fashion on Polygon.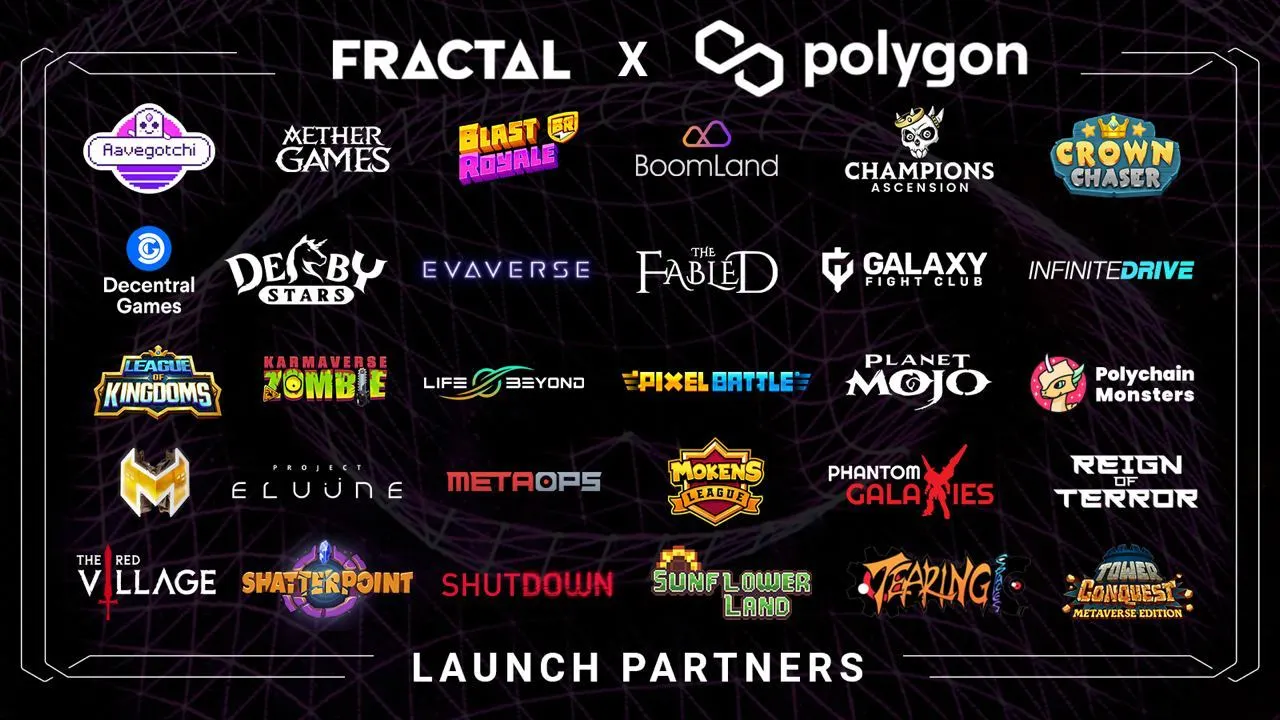 Games are also growing on the platform, and Fractal will support 30 Polygon-based games at launch, including Sunflower Land, Aether Games, Life Beyond, and Phantom Galaxies. Fractal will work with Polygon Labs to promote games through online tournaments and events ahead of the annual Game Developers Conference (GDC) in March.

Polygon Ventures has also made a strategic investment in Fractal, the companies announced today, although the amount of the investment has not been disclosed.
Expanding from Solana
Fractal launched in December 2021 as Solana momentum was at its peak, with the SOL cryptocurrency near its all-time high price and NFT sales growing. The gaming-centric platform and NFT marketplace found a receptive audience, but Kan said that many early buyers were there to speculate around Solana NFTs rather than support and buy into game projects.

"We were selling fucktons of NFTs at the beginning of last year," Kan told Decrypt, "like way more than we deserved for a company that was one month old or two months old."

Fractal went on to announce a $35 million seed round in April 2022, which was co-led by Paradigm and Multicoin Capital, and included participation from Andreessen Horowitz, Solana Labs, Coinbase Ventures, and Animoca Brands, among other investors.

However, the broader NFT market rapidly declined soon after, in tandem with crumbling crypto prices—SOL is currently down 91% from its peak price set in November 2021.

Furthermore, the Solana NFT space changed significantly, with a majority of marketplaces no longer requiring traders to pay creator royalty fees (typically 5%-10% of the sale price). Fractal has continued to enforce creator royalties on NFT sales, and Kan described them as a key part of what makes Web3 development so compelling for game makers.

"That's your incentive to maintain the game, update the game, and create this ecosystem. If creators and game studios specifically don't have the incentive to do that, then there's not gonna be longevity in these games," he said. "There needs to be funding for them at the end of the day. People gotta eat."

Fractal has seen its secondary trading volume fall significantly in recent months. According to data from Tiexo, the platform has handled just 2,660 SOL worth of trades over the past 30 days—about $64,000 worth at the current price of SOL. That represents just 0.02% of total Solana NFT trading volume during that span.

Kan said that the Solana technology is still "really compelling," but Fractal started expanding outward late last year. In November, the firm added game projects that run on the Ethereum mainnet, and now Polygon-based games are live on the platform as well.

Fractal will face a familiar competitor in Magic Eden, the dominant Solana NFT marketplace that added Polygon support late last year. Kan believes that Fractal's singular focus on gaming will continue to be a differentiator on the new platform.

Although NFT buzz has fallen sharply over the past several months and many video game fans aren't keen on the tech, Kan remains set on the idea that Web3 models will eventually take hold in the industry. He's just waiting for more games that are captivating enough to make the case, and not just attract would-be NFT flippers.

"I'm so bullish on open-economy games," he said. "I think it's still a future business model of the gaming world. We just need to see more games actually get created in this vein, then eventually one of them will be the next Fortnite or Free Fire that'll change the world."
Source : decrypt