The Presale of Banksy Version 2 just started on March 27th, 2022, at 15:00 UTC on the AVAX Farming. This version is designed to be better than before. To certify Banksy Version 2, they collaborated with the Sandman Finance team. Sandman's finance team made an effort to create something exceptional for all crypto enthusiasts. They added multiple speculations to enhance the user experience.
The following features are included in the Banksy Farm V2: Antibot System, Extended Master Chef, SMART NFT Farming Support, Distributed Autonomous Treasury (DAT), and Block Initial Liquidity for the Community. To improve its features, they adopted a modular method. Are you ready to become a part of Banksy farm V2? You surely need to be a part of their pre-sale happening now! To get more information regarding the pre-sale, continue reading the article.
Pre-sale Theory
The ownership token, supplied by the Kurama Protocol, is something Banksy DAO adds to all of this theory. The ownership token is more than a novel feature; it is a driving factor that encourages investors to STAKE the token because it will reward USDC as if the investor were a project owner. You can buy the pre-BANKSY token then stake it in the pre-sale wall to earn DAI. The token launch is happening in 3 days, and then the farming of the token begins in 6 days. Stay connected to earn DAI!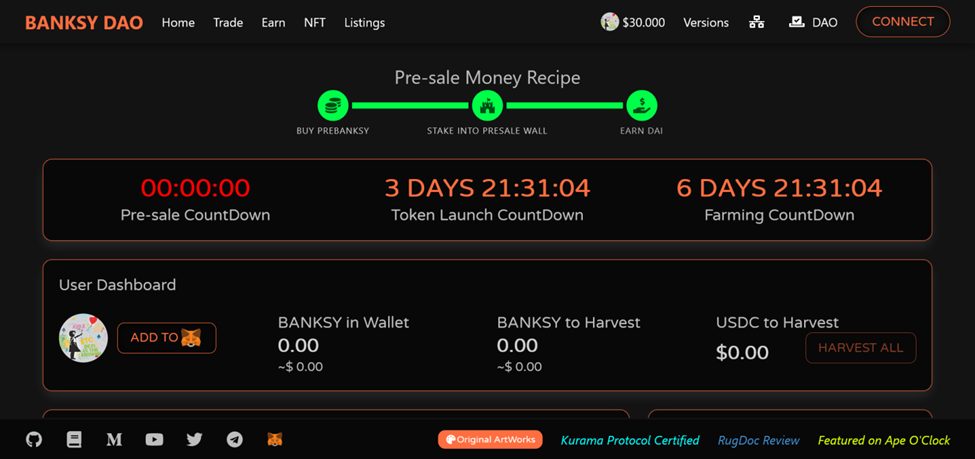 Banksy Farm V2 Roadmap
PRE-BANKSY EARLY ACCESS 1: MAR 27th, 15:00 UTC
EARLY ACCESS 1, March 27th 15:00 UTC, $20
EARLY ACCESS 2, March 28th 15:00 UTC, $23
EARLY ACCESS 3, March 29th 15:00 UTC, $25
3D NFT SALE – EARLY ACCESS 1:Mar 27th, 17:00 UTC
The DeFi Boy #2110
PRE-BANKSY WALL (stake pre-sale token and earn stable coin): March 27th, 22:00 UTC
PRE-SALE ENDS: March 30th, 15:00 UTC
ARTWORK 3D NFT AIRDROP: Mar 31th, 14:00 UTC
The DeFi Boy #2110
Only 10 3D NFT for AIRDROP.
Initial Liquidity Provided: Mar 31th, 15:00 UTC
BANKSY Redeem: Jan 31th, 16:00 UTC
BANKSY Farming Start: April 3rd, 15:00 UTC
Vaults Start: April 3rd, 15:00 UTC
Pre-sale Early Access
The wait has come to an end with the beginning of the pre-sale today! The pre-sale began on 27th march 2022 at 15:00 UTC. The pre-sale has just begun and is in its early access stage 1. The remaining pre-Banksy tokens are 7187.90. Pre-sale will end soon on March 30th, 15:00 UTC. In the early access during the first 24hrs, you can get the token for only 20$. You still have a chance to buy during EARLY ACCESS 2 happening on March 28th at15:00 UTC for $23 per token and EARLY ACCESS 3 on March 29th at 15:00 UTC for $25 per token. So hurry up before you miss this chance, and the 3D Smart NFTs end!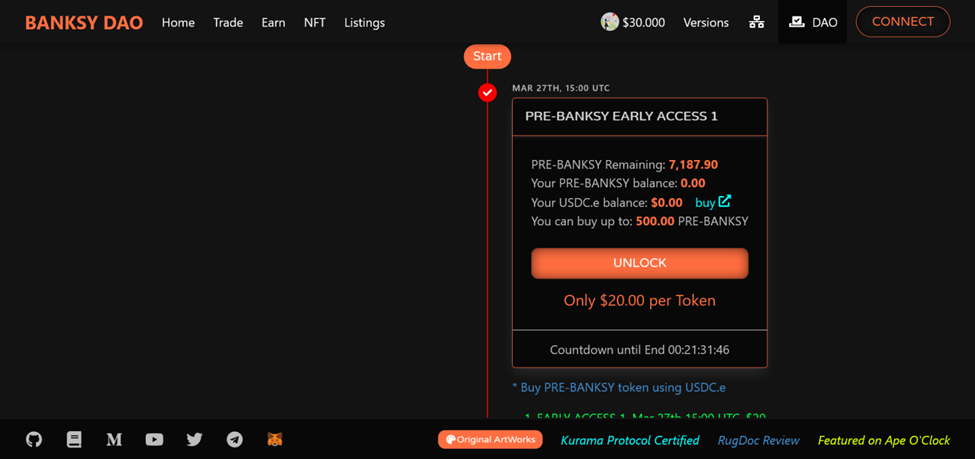 3D NFT Public Sale
The 3D Smart NFT can be used to vote, gamble, boost your farming and is a new experience for those seeking to earn through NFTs.The first 3D Smart NFT to be released is The DeFi Boy #2110.
Generation 1
Experience 287
Power 27
Boost Stake 12.18%
Total 175 NFTs are remaining in the pre-sale, out of which you can only buy 9 NFTs. You can buy each NFT with USDC.e, only for $30.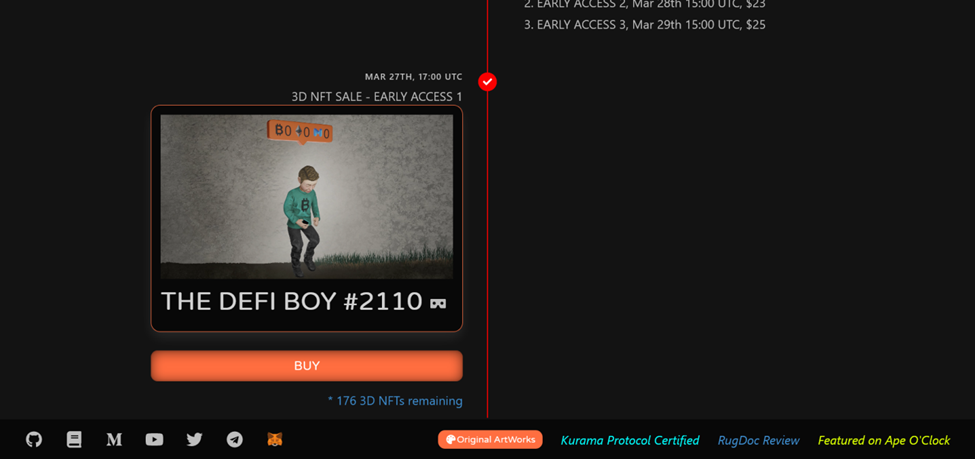 Where Can You Use Your Nft Artwork?
Increase your rewards (farming and walls)
Reduce the time between harvest lockups.
Vote in their platform to help them make decisions.
Get experience while using the artwork.
Merge many artworks to make a new boosted version.