Welcome back, crypto enthusiasts! We are here to present you with another article about Ruyi Wallet.
Today, you can do many different things in this crypto space. You can have an exchange, a token, or an NFT project. However, wallets have been in the news all over the place now. This article will mainly talk about ruyi wallet technology, which is leading the new trend of cryptocurrency.
Ruyi (RUYI) is a cryptocurrency. It's not the same as your fiat money. It is a sort of currency that is represented by a digital code. You can store your fiat cash in a physical wallet, but how can you hold your digital currency in terms of security?
A Ruyi wallet is a form of application or software program, or a digital application, that allows you to keep and hold your Ruyi without fear of losing it. In a way, it's similar to a bank. Once you've credited your bank account with your currency. The amount you have credited to the bank is displayed on your bank application.
In the Ruyi wallet, you'll see the precise amount you've invested and a quantity based on your funds. What's left to see is what else is in the wallet. Continue reading the article to find out more about Ruyi Wallet!
About Ruyi Technology
Ruyi Technology will create a one-stop-shop platform that will transform the way consumers and businesses transfer, receive and store multiple currencies safely.
Their platform will combine peer-to-peer online payments, e-commerce, cryptocurrency and fiat exchange, multi-currency wallet, messaging, international transfers, and business connectors through their website and easy-to-use applications.
Ruyi Technology was established in Singapore in 2021 and had a support office in the Philippines. Their vision is to be the gold standard in the cryptocurrency business regarding platform security, technology, customer support, and service providers by forming mutually beneficial relationships with our users, community members, and investors.
What Is Ruyi Wallet?
Ruyi wallet, launched on January 20, 2012, by a Singapore-based company, promises to bridge the gap between CeFi and DeFi.This cryptocurrency wallet may be used for billing, utilities, point-of-sale, payroll, remittance, messaging, and C2C transactions.
It will reduce the need for several digital asset transfers, lower transaction fees, reduce possible mistakes, and reduce security threats. Say goodbye to the many difficult-to-use, haphazard programs that consume so much of our time.
There will be no fee for transfers between users in the wallet. There is no charge. Two-Levels of encryption are available as they employ military and encryption techniques built on blockchains—a technology to ensure data security. Cross-regional, cross-platform cryptocurrency and legal money transactions are both convenient and rapid.
Payments can be made in All Forms through Ruyi Wallet. It offers a straightforward setup that enables it to accept various payment methods. Many other currencies are accepted, including BTC, ETH, USDT, DAI, OKB, BUSD, etc. Confidentiality and privacy are maintained by KYC&AML, which assures transaction security and anonymity, is used in OTC trading.
AES256 two-way encryption is employed to preserve security so Users can communicate securely. Ruyi overcomes all of these problems with a wallet that is hassle-free, frictionless, safe, and simple to use. Ruyi Wallet (RUYI) is a cryptocurrency. To, deployed on Binance Smart Chain (BSC BEP-20)
Contract: 0x2155924DADF2a663BebC2c1522eFAD99c31858c8
Details About A Private Sale
To minimize synchronized liquidation of the project, they arranged an exclusive and thoroughly KYC'd private sale from respected crypto community participants. Furthermore, most private sale proceeds will go to the stock market community and private investors (non-crypto) to assure the project's capitalization stability.
The monies raised from the private sale will be utilized for marketing, smart contract creation and audits, team formation, and other pre-launch expenses. All costs were audited and disclosed to the exclusive presale community by their in-house finance head.
Presale tickets are only available to members of the press. After multiple talks with several launch pads and their supporters, the core team chose to conduct a private presale instead of a public sale. This choice aimed to distribute the tokens to the investing public rather than to projects or corporations that would put them in danger of being dumped. To create a firm foundation for the project, 100% of the private presale money will be given to the liquidity pair.
Tokenomics
A 10% tax will be applied to all RYB purchases, sales, and transfers to ensure the project's continued growth. The proceeds from the ten percent tax will be divided into the following:
Two percent is switched and liquidated into BUSD for app development and post-marketing advertising.
5% of the liquidity is added to keep the token price constant.
The prize pool is held at 2% of the total (RP). Their NFT holders will receive prizes in the form of RP.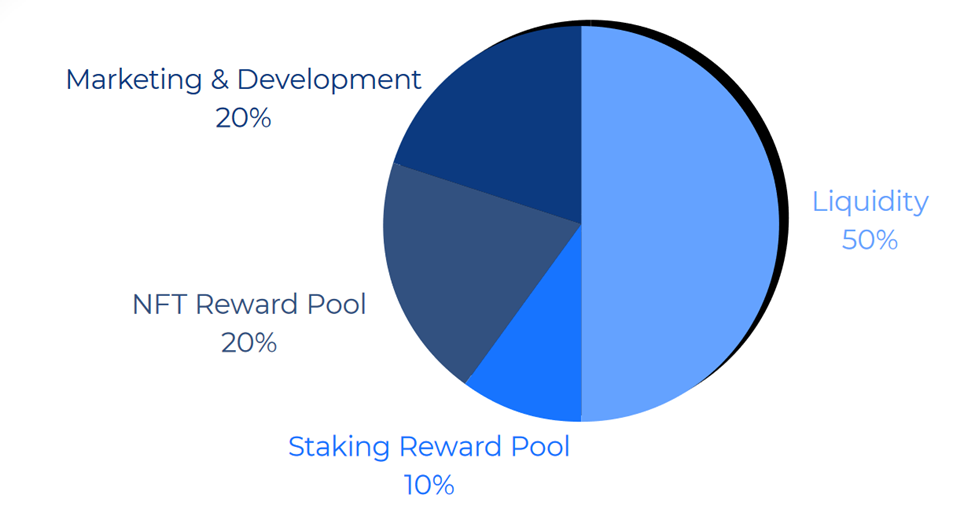 Total Supply
Ruyi Token will have a one-billion supply and a $0.0005 starting value. The cryptocurrency will have a BUSD liquidity pair, making it more stable and independent of BNB price behavior. The initial market capitalization (MC) will be 500,000 dollars. The LP will be locked for one year and can then be re-locked.
Distribution of Tokens
Twenty-two percent of the property is for sale privately.
Sixty percent of the tickets will be sold in a private presale.
Tokens that are locked
10 percent Airdrop & Burn
Development and marketing accounted for 8% of the total.
Road Map
2020
Planning and conceptualization
Business registration and incorporation
Establishment of the Platform Development Team
Framework setup
Q3
Establishment of the Human Resource and Admin Team
Manpower recruitment and pooling
Q4
Establishment of the Finance Team
Establishment of the Legal Team
2021
Q1
Manpower recruitment and pooling
Corporate planning and reporting
Q2
Establishment of the Customer Service Team
Customer Service Team Training
Initial coordination of crypto business licensing
Partnership with Google Cloud Services
Partnership with Amazon Web Services – SG
MSB application
Q3
Setting up of Project Development Team
Manpower recruitment and pooling
Outsourcing of a Multimedia / Creative company
Submission of licensing for crypto business
Coordination with Simplex for payment integration
Secured MSB licenses
Submission of Annual Report
Planning sessions for FY 2022
2022
Q1
Manpower recruitment and company expansion
Establishment of Quality Assurance Team (QA)
Simplex partnership.
Application of licenses to more territories
Corporate marketing campaign
Internal Audit
Failure mode and effect analysis (FMEA)
DEX listing application and coordination
Q2
Corporate partnerships
Increase company capitalization
Corporate marketing campaign
Q3
Preparation of requirements for CEX
CEX listing application
Corporate marketing campaign
Q4
Workforce recruitment and company expansion
Corporate marketing campaign
Coordination and partnership for e-Commerce
2023
Q1
Corporate marketing campaign
Acquisition and partnerships
Preparation of requirements for Ruyi Blockchain
Critical Features Of Ruyi Wallet
· Payments In Digital Currency
Take advantage of reduced transaction costs by using your bitcoin holdings for online shopping, utilities, bill payments, and other offline and online activities. Their users can securely and effortlessly switch between a centralized and a decentralized wallet within their software, giving them much-needed flexibility.
· Keeping Virtual Currencies Safe
The secure storage of funds is one of the essential parts of the bitcoin investment process. It is critical to safeguard your digital assets because enterprises now use them to impact purchasing behavior and boost sales. They also provide a visual image for your products or services and permit you to communicate with and attract the audience through several methods and multimedia elements. It's akin to locking valuables in a storage locker to safeguard and secure them against theft.
· Services For Swapping And Exchanging
Cryptocurrency is now easier to buy and sell than it has ever been. Using your compatible devices, you may trade anywhere, at any time. They will enable numerous decentralized financial protocols that may trade cryptocurrency through our multi-blockchains. It's never been easier to swap tokens. Ruyi wallet will also assist its customers in conducting P2P transactions between blockchains smoothly and cost-effectively. They got exchange and swap. You can quickly and conveniently buy and exchange cryptocurrencies. Through your wallet, you can use your credit card to purchase cryptocurrencies.
· Safety
Ruyi has a five-step authentication process, including SMS, email, Google authentication, biometric identification, and facial recognition. Local data is encrypted using a military-grade AES256 password to protect data security.
Significant assets can be stored in a decentralized wallet. The user's private key can be maintained in an offline location for additional security.
Furthermore, because 80 percent of the centralized wallet's assets are saved on offline addresses, the money lost may be limited even if there is a problem. Ruyi Wallet is a dual-mode high-security wallet to protect your assets to ensure customers' safety and privacy. Also, a switch wallet mode is available to freely decentralize and centralize multi-chain and multi-currency. There are five steps to protect assets safely support coin exchange and a variety of DeFi financial products for the verification process.
· Platform For Social Media
By their online community, stay up to date on the newest in the crypto-world. They will guide their users into a new era of social media, free of fake news, price manipulation-inducing mind training, and repeated bot-like messages and postings. Through Ruyi wallets' social contacts, you can meet more new friends and speak freely with them. There is point-to-point encryption and burning after reading data transmission.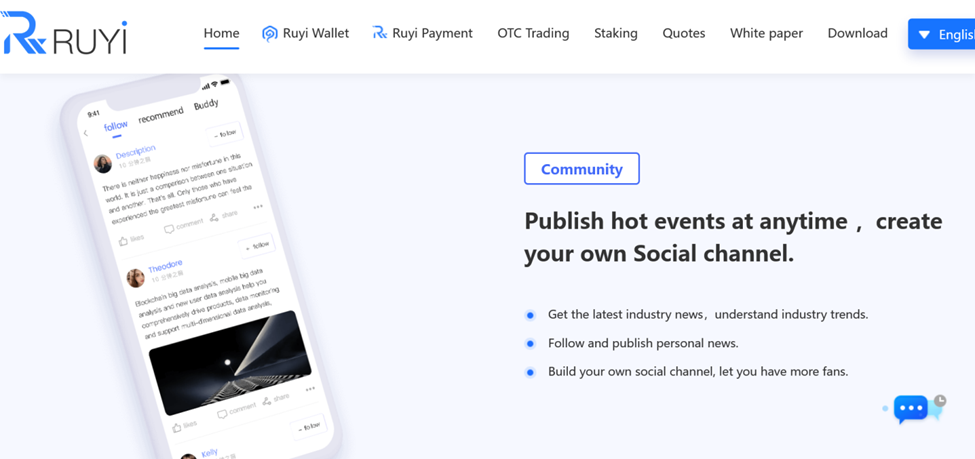 · Messaging
The ability to communicate and exchange knowledge with others is one of the most crucial components of existence. Ruyi recognizes the need for a dependable messaging platform, so we opted to include it.
Ruyi's messaging platform is multi-functional and encrypted. Video calling, voice calling, geolocation, contact sharing, and capital transaction are all available. Their messaging platform also supports the transfer of photos, videos, and other materials.
· Promotions
Marketing is a significant business, not just in crypto, but in various organizations, online and offline. They have recognized this potential, and our site will be a tremendous tool for getting the word out to the right people. They can use this platform to assist not just other crypto initiatives and startups but also existing businesses in reaching a larger audience. It will be a revenue-generating feature for Ruyi, and they intend to inform our stakeholders about it.
· Complaint Handling
They have an excellent customer service team ready to handle issues and fix them quickly and effectively to deliver the best possible experience for their consumers. Their live customer support service is accessible 24/7, so you won't have to wait 24 to 48 hours for a solution to your problem.
Their clients will not be speaking with bots but with a genuine person that is compassionate and ready to assist in resolving a problem. In the case of theft, hacking, frauds, or honeypots, their crew is likewise armed with sophisticated tools to help their consumers. They have been taught how to properly assess reports and make smart judgments based on the data supplied.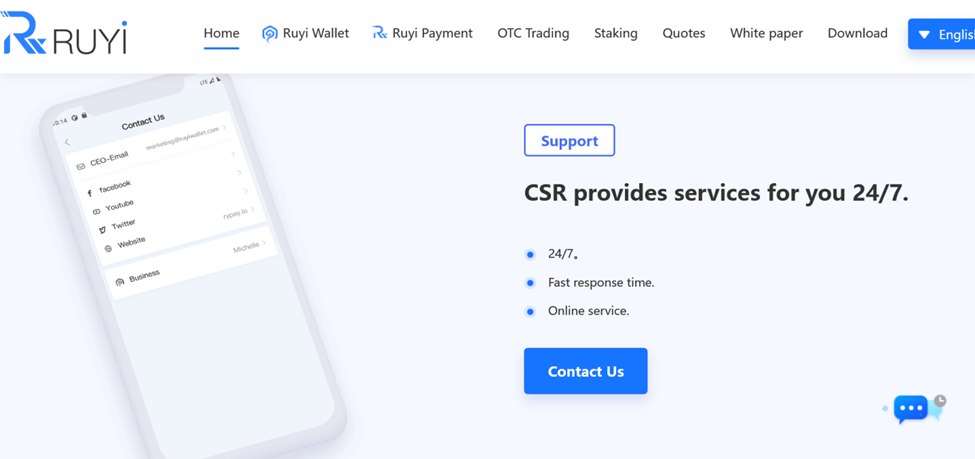 Why Choose Ruyi Wallet?
Membership
It takes about a minute to register a wallet using an email address; no other information is needed.
Layout
UI interface that is simple and easy to use.
Assistance
Ruyi Wallet offers excellent technical support services.
Ruyi Staking
Through Ruyi Staking pools, you can easily exchange trade or stake your tokens.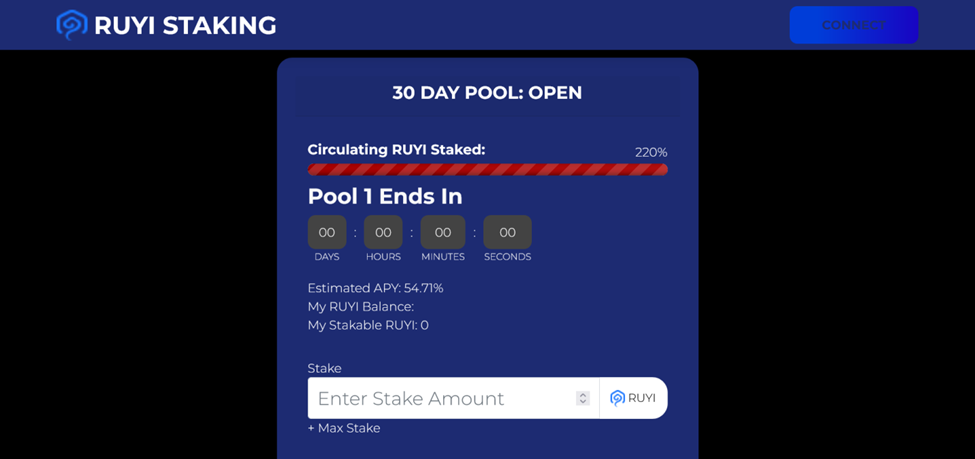 What Are The Advantages Of BSC Token Holder?
Holders will receive 2% of tax reflection
Incremental airdrops for Diamond hands and Token Burn
First Month, 0.5% Airdrop and 0.5% Burn
Second Month, 1% Airdrop and 1% Burn
Third Month, 1.5% Airdrop and 1.5% Burn
Fourth Month, 2% Airdrop and 2% Burn
In the Fifth month, we will Mint limited edition NFTs to reward the diamond hands.
Holding NFTs can unlock premium for the Ruyi Wallet such as but not limited to;
For Gold, 50 NFTs minted
100% rebate for all transaction fees
100% Ad-free
30% of the reward Pool
For Silver, 100 NFT's minted
75% rebate on all transaction fees
100% Ad-free
30% of the reward Pool
For Bronze, 500 NFT's minted
50% rebate on all transaction fees
100% Ad-free
40% of the reward pool
THE TEAM
Shaun (Lead, Product Development Ruyi Singapore)
Christian Talento (Lead, Project Development Ruyi Technology, Inc)
Roberto Da Silva (Lead, Marketing NK Marketing Company)
Johanne Gonzales (Lead, Human Resources and Administration Ruyi Technology, Inc)
Nikoli Joven (Lead, Finance Department Ruyi Technology, Inc)
Bernadette Alejo (Lead, Community and Customer Support Ruyi Technology, Inc)
Ruyi Wallet Investment
The Ruyi wallet system's address is split into two halves, one of which is a web domain and the other an offline domain, suggesting that the address's private vital memory status is active in social media. A 1:4 fund deposit ratio exists between the two addresses.
After the user deposits the cash, the system will automatically allocate the commodities to the offline location. The actual transaction takes place in finance, and the user will only transfer funds from the online account when the cash is transferred to the outside. Even if the system is accessed, the overall loss will be less than 20% of the total.
Ruyi Wallet Application
It is an app that has the potential to transform the remittance, collecting, and storage methods of businesses and individuals throughout the world, bringing the advantages of digital money to all. Please wait for their official version to be released since it is presently a test version. Ruyi Wallet is available on Google apps or Google Play, and the apple store.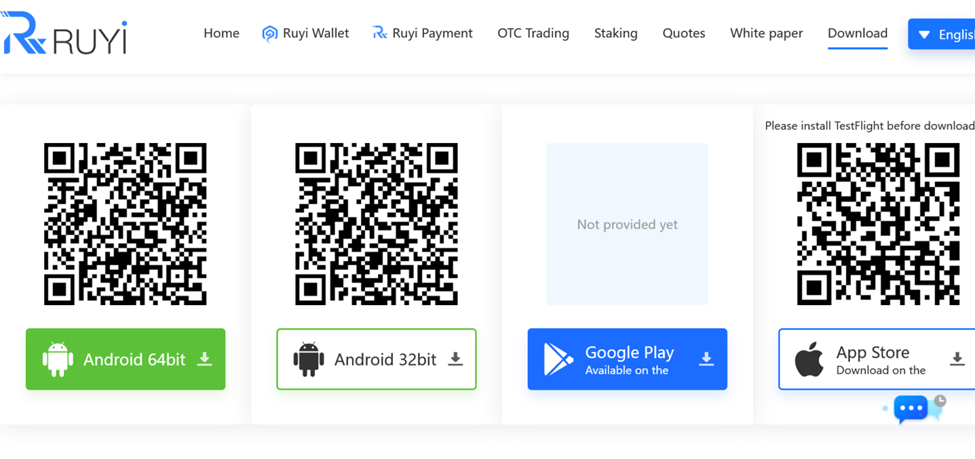 How To Contact Them?