Investors are pouring into MATIC ahead of a new update that could improve Polygon's ability to scale and integrate with Ethereum.

Polygon's native MATIC token has soared 8.3% overnight to $1.08, as per CoinGecko data, while the overall crypto market cap has held steady above the key $1 trillion mark.

This makes Polygon the tenth-most valuable cryptocurrency with an overall market capitalization of $9.6 billion, above Solana with $745 million, but below Dogecoin with $11.8 billion. 

Polygon is a collection of scaling technologies built to improve Ethereum's scalability.

Prior to its rebrand, Matic Network focused primarily on using so-called Plasma chains to increase Ethereum's throughput. These days, the proof-of-stake (PoS) network is tinkering with several different "rollup" solutions, including both Optimistic and Zero-Knowledge varieties.

P

MATIC

+4.29%$1.181

---

24H7D1M1YMAXJan 28Jan 30Feb 1Feb 3$1.05$1.1$1.15$1.2$1.25$1.3

In terms of user activity, the network has dipped some since a steep rise at the beginning of the year. The number of daily users rose from roughly 404,000 on January 1 to 696,00 users on January 6.

Today, however, that figure has dropped to approximately 399,000, per PolygonScan.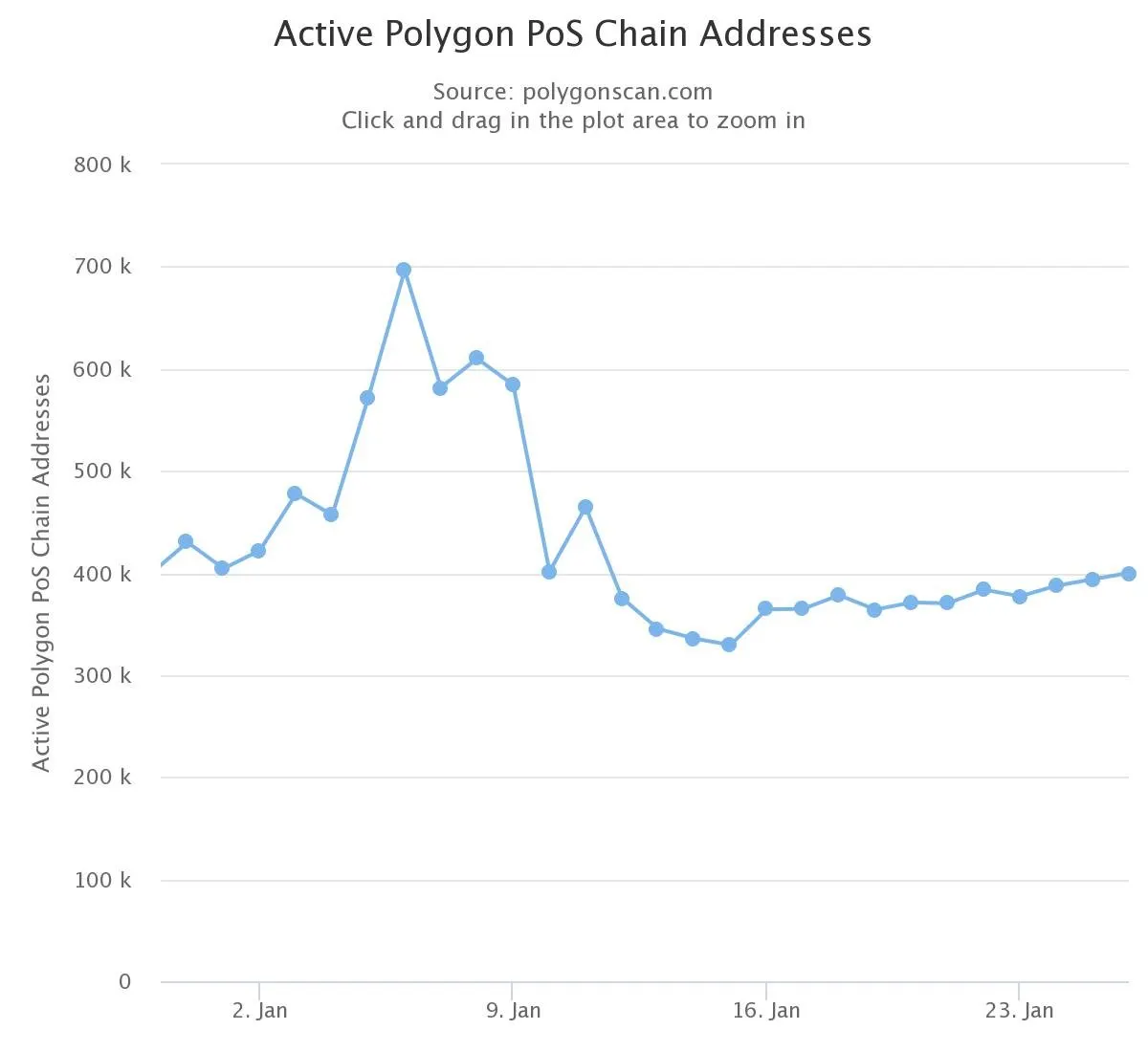 Though Polygon has already performed tremendously this year, up roughly 42% since the year kicked off, it's still roughly 63% off its December 2021 high of $2.92. 
Polygon updates on the horizon
The latest price action also comes as Polygon looks set for some major updates.

Polygon co-founder Sandeep Nailwal recently tweeted that the anticipated addition of the  zkEVM update to the network has an official date and will be happening "soon."

First announced in July 2022, zkEVM is an Ethereum-compatible scaling solution that uses rollups to provide compatibility with all existing smart contracts built on the Ethereum network.

Previous versions of ZK-rollups weren't able to execute some of the more complicated operations necessary for smart contracts. A zkEVM promises to resolve that.

In cryptography, a zero-knowledge proof is a way of proving the truth of a statement without sharing the statement's contents or revealing how this truth was discovered.

The technology has been available for available testing via a public testnet since October 11.
Source : decrypt