Decentralized finance, or DeFi, is a way for making financial commodities available to the general public over a decentralized blockchain network. Sandman Finance is a DeFi system that helps the community launch all seven levels with unique features.
Sandman finance uses various technologies and protocols to achieve its aim of decentralization. With the debut of the seventh layer death, Sandman Finance is promoting cooperation. They believe that the DeFi space is all about collaboration hence they collaborated all the features of the previous layers and added in the seventh layer.
Integrations and collaborations have been vital to Sandman's commercial success thus far: the comic is now finished with the publication of the last layer, Death. Consequently, they've created a project in which they work together to generate exceptional results. Sandman Finance Layer 7 has been released for about a month now, with all the latest features that were not a part of the previous layers. So let's see what's new about Sandman Finance Death Layer in this article!
What Is Sandman Finance, and How Does It Work?
Yield Farm, NFT Profile, NFT Battles, NFT Farm, and Gambling are all powered by the Polygon Network. They have excellent APRs and a dedicated Guardian Team that has spent years gathering information on safety from various sources. The desire to achieve the greatest possible outcome for their community has always been strong.
Death Token Specifications
In this layer, Death Token is the fifth-tier farming token. The death token is the third of seven tokens (one for each volume tier).
Prizes were awarded after farming Death token.
Bet on Death on Vaults for a chance to win USDC and other prizes.
If you wait until Layer 7 ends, you'll get more rewards.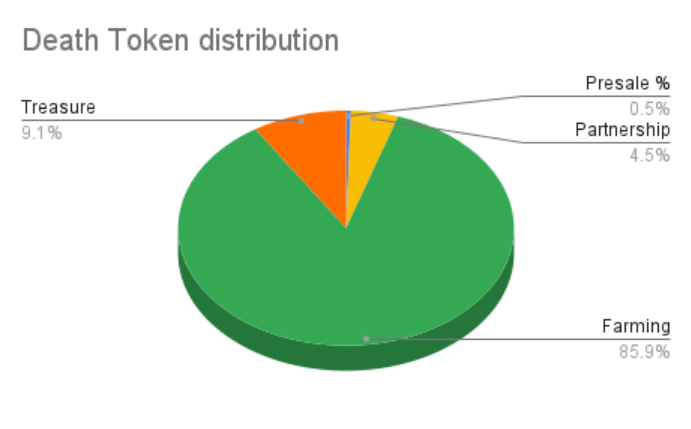 Death Kingdom
A payout pool in which a particular farming pool distributes your token to their community is known as a reward kingdom. We'd want to go through these kingdoms in further detail. Users can earn DAI and other collaboration tokens as dividends from Sandman finance's kingdoms.
In that pool, their community gets rewarded with tokens (days) for a short period. Usually, this is done by swapping native tokens of equivalent value.
Invest in the DEATH KINGDOM with your $DEATH Token.
Earn other tokens as a prize for that Death Kingdom.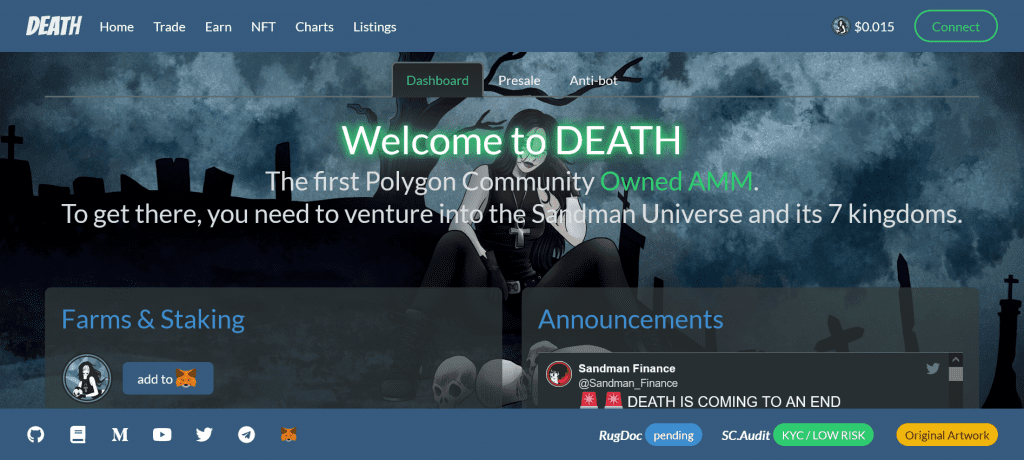 Death Kingdoms Roadmap
On Death Farm, they had 5 Kingdoms in the entire FARM
The Life Kingdom on Jan 23th to Jan 26th
The 1st Death Kingdom on Jan 30th to Feb 2nd
The 2nd Death Kingdom on Feb 4th to Feb 8th
The 3rd Death Kingdom on Jan 10th to 14th
The 4th Death Kingdom on Jan 17th to 21st
Sandman Finance Layer 7 NFT Cards
As part of the community's journey across the sandman universe, the Sandman Finance team is pleased to provide The Endless NFTs Cards. Moreover, NFT's Cards are the Sandman Finance Gambling Engine. Each talent will be generated at random via the Chain-link Randomness engine.
Simply having the NFT card in your wallet will give you access to all tiers of advantages. NFT will continue to benefit Sandman Finance's 7 Layers. So yet, no NFTs characters have been released but you can merge your NFTs from the previous layers.
Merging NFTs
NFT Merge is a feature that allows you to combine two or more NFT files. On this layer, you'll be able to integrate your current NFT Cards. You'll be able to connect NFTs from the same generation to make a more powerful NFT.
The rules for merging will differ based on the situation. When combining NFT, it is not feasible to merge generations. The Sandman Finance Team assures that the merger will not disrupt the community's equilibrium.
What Are The Merging Rules?
Only three cards can be merged at a time.
You can only combine one card at a time.
Merging is only feasible with cards from the same generation; thus, it will no longer be eligible to combine if you acquire an integrated card.
Anti-Bot Feature With Blacklisting
They have undergone severe examinations to establish a security system for their community, thanks to the arrival of Sandman Finance, layer seventh Death. They used a pre-sale technique for this currency launch. This is the most efficient way of boosting liquidity.
To ensure security, they use different methods. For instance, the Anti-bot Tool, a security function used in projects, is now included in Sandman Finance Layer 7. This feature's main objective is to safeguard startup liquidity against bots.
Manually Adding to the Blacklist
The Sandman Finance Team will be monitoring transactions while this service is enabled. Any wallet with a dubious address or transaction will be manually put on the blacklist.
Timeline for Feature Implementation
This functionality will be activated before the launch of the token and removed before farming.
Auto-Compounding Vaults
Sandman Finance went farming a step further by automating compounding without the requirement for investor participation, allowing the community to earn more money. Also, they may provide you with a vault on their platform that will automatically compound your coin, resulting in more visibility for your token.
New Front End for their Dapp
New MasterChef with extended features
NFT Boosting
Harvest Lockup
One Layer, 2 NFTs