The wait is over, and the Sandman Finance comic journey comes to an end with the Presale of the seventh layer, Death! You've arrived at the right place if you're seeking a secure and reliable yield farm in the Polygon Network with high APYs and a dedicated Dream Guardian Team dedicated to development. Sandman Farm is a fantastic investment opportunity.
In the initial few months, a quick strategy was devised to make this farming platform profitable, remarkably efficient and a resounding hit. A lot is going on within the Sandman Finance team. And we want to share them with the community so that everyone can join in their joy.
Sandman Finance is embarking on a comic adventure, unleashing layers upon layers. They are approaching the final layer of the seven comic layers that they discussed a few months ago, and they are saving many things for the end. With the launch of the seventh layer, Death, they have put a lot to the wait.
DeFi projects will provide a lot even though the area may still be young. Sandman Finance has a strong track record in this area, having learned about safety from various sources throughout the years. They had much success with the past six layers. This seventh layer of Death is poised to enter the fray, ready to unleash tokens and destroy farms.
More About Sandman Finance
You've come to the right place if you're seeking a safe and secure Yield Farm, NFT Profile, NFT Battles, NFT Farm, and Gambling powered by the Polygon Network. They have incredible APRs and a dedicated Guardian Team dedicated to learning about safety from various sources over the years. The best gain for their community has always been a significant motivator.
Hybrid – Dreamed Yield Farming Sandman Finance seventh layer pre-sale will host on Polygon Network on Sunday, January 23rd, 2022, with the First Public Presale Ever. Sandman finance is listed on various cryptocurrency exchanges. However, unlike other prominent cryptocurrencies, you can't buy them using fiat currency. This money can still be purchased by first acquiring Bitcoin on any fiat-to-crypto exchange, then transferring to a deal that trades this coin.
They created an entire DeFi Universe for their endeavour, borrowing inspiration from Neil Gaiman's book Sandman. This is the last step in their long-term plan, which will include the construction of seven levels, each symbolizing a chapter of the book:
• Chapter 1: Death — Death in Venice
• Chapter 2: Desire — What I've Tasted of Desire
• Chapter 3: Dream — The Heart of a Star
• Chapter 4: Despair — Fifteen Portraits of Despair
• Chapter 6: Destruction — On the Peninsula
• Chapter 7: Destiny — Endless Nights
Each layer contains the following elements:
1. Pre-sale
2. Farming
3. Vaults
4. Kingdoms
The token for the previous layers will be converted into the current token.
Death: Layer 7
Sandman Finance's Seventh Layer is Death Farm. The final version of Version 1 in Polygon. Their community's future has promise: Sandman Version 2 will arrive with fresh and exciting features. Consider the ownership token as a sneak preview.
Sandman Finance Layer 7 Public Pre-sale
They have undergone specific assessments to establish a security system for their community with the launch of Sandman Finance, layer fourth Destruction. They chose a Presale Strategy for this cryptocurrency launch. This is the most effective technique to increase liquidity. To ensure security, we use our Anti-Bot System. The Anti-bot Feature, the security feature utilized in a project, is now available in Sandman Finance Layer 7. The primary purpose of this functionality is to protect startup liquidity against bots.
The Presale starts on January 23rd, 2022, at 15:00 UTC. The Presale of the NFT begins on January 23rd at 18:00 UTC and ends on Wednesday, January 26th, 2022, at 15:00 UTC.
Liquidity Provided (Manual) January Thursday 27th – 15:00 UTC
Swap Presale Token January Thursday 27th – 16:00 UTC
#Detah pre-sale begins in 3 steps:
1st Early Access: $20 – First 24hs
2nd Early access: $23- First 24hs
Presale Trophy Final Sale: $25- Last 24hs
The total raised goal is $50,000-$62,500, and the market cap per investor is $5,000.Initial liquidity supplied at $30 per Death.
Presale Token Info
Ticker: Death
Contract Address :TBA
Blockchain: Polygon
Maximum Supply:500,000
Death Token
The fifth layer farming token in this scheme is Death Token. Death token is the third of seven tokens, one for each volume tier.
Benefits:
Farming Death will win you rewards.
Stake Death on Vaults to win USDC and other incentives.
To get more incentives, wait until Layer 7 dies.
The Farming of death tokens starts on January 30th, 2022, Sunday at 15:00 UTC.
Death Kingdoms Roadmap
On Death Farm, they will have 5 Kingdoms in all the FARM:
The Life Kingdom on Jan 23th to January 26th
The 1st Death Kingdom on January 30th to February 2nd
The 2nd Death Kingdom on February 4th to February 8th
The 3rd Death Kingdom on January 10th to 14th
The 4th Death Kingdom on January 17th to 21st
Max Supply Distribution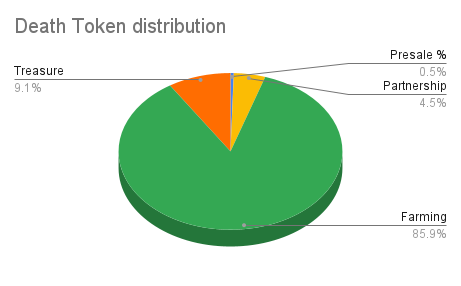 Pre-sale 0.5%
Liquidity 0.03%
Partnerships 5%
Farming 84.47%
Treasure 10%
0 tokens minted for creators. Infrastructure tokens have created in the amount of 0 tokens. At the end of Farming, all tokens will not be utilized for partnerships but burnt according to policy.
Launch Type: Presale With Blacklisting
The Sandman Finance Team will be monitoring transactions while this function is enabled. Any wallet transaction that with a dubious address will be manually put on the blacklist. This feature will be allowed before the token launch and disabled before Farming.
Launch Deposit Fees Distribution
4% Deposit fees for:
Marketing
Rewards
Partnerships
Dev salaries and audits
Latest Features Added In Presale
Here's a preview of what's to come:
Their dev team has been working hard on improving both the UI and UX of their new front-end dApp.
MasterChef, a smart contract, manages to farm. They are always looking for ways to improve the community. They added features to each of them by using the layers. Numerous new features are a part of this new MasterChef as a result.
You will now be able to enhance what you have deposited in their pools/farms as well. As a result, everyone with NFTs will earn a larger payout.
You will gain additional experience every time using NFT increases your Farming experience. As a result, the more you use it, the more valuable it becomes.
Although it is a contentious characteristic, Farming is beneficial in the early hours. You'll be able to keep higher prices and APRs for a more extended period with this harvest lockup option.
Sandman Finance has always placed a strong emphasis on NFT. From the beginning, they said that those who joined us through the seven layers would get rewarded. In the seventh layer, pre-sale gifts those who have been a part of the comic journey since the beginning.
Features From Previous Pre-sales
Presale Launch: The best way to add project liquidity and avoid Bots. The fairest of all launch strategies with an Anti-bot feature.
Limited Token Supply: Death token has a fixed max supply of 500,000
Auto-compounding vaults: They took farms and went one step further to help the community achieve higher profits where they performed auto-compounding without the need for investor interaction
Death Kingdoms: The Destiny Kingdom is a feature that rewards their community for holding the $DESTINY token.
NFT Sales: They will host an NFT Generation #3 Sale on this layer.
NFT Merge: If you have several cards of the same generation, you'll be able to merge them into a powerful one.
Allocation of Presale Funds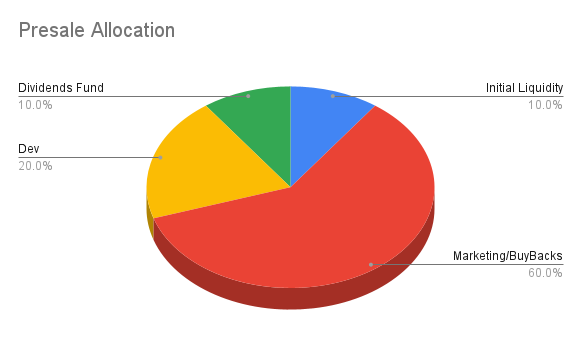 Initial Liquidity 10%
Marketing/BuyBacks 60%
Dev Salaries 20%
Dividends Fund – Destiny Kingdoms 10%
Last Presale With Greater Benefits
Because this is the final layer, they have chosen to provide the two endless that is still lacking to complete the 7-figure collection. As a result, the distribution for layer 2 NFTs is as follows:
During the Presale, Destiny NFT will distribute.
Then there will be a sale of Death NFT.
Those that joined them in the seven chapters, as always, will be rewarded. Collecting the 7 NFTs of the Endless is how you get your passport to the V2 of Sandman finance. After that, you can exchange the seven NFT cards for an Endless NFT card. And this will be the method to proceed with the platform's second generation.
What Is The Presale Procedure?
The Presale consists of two parts. If you have a Sandman Token, you will participate in phase 1. Otherwise, you can participate in Phase 2 of the USDC Public Presale. A harvest lock is a part of #Death to maintain higher prices and APR for a longer time.
You can harvest faster if you have more experience, skills, and stashed amount. The harvest lockup will lessen even though you have an NFT.
Phase 1: Pre-sale token for early access one and early access 2
Phase 2: Pre-sale NFT
All this ends with a final phase.